Multiple Tooth Implants
If you are missing two or more adjacent teeth, multiple teeth implants are a great treatment option. This advanced treatment can permanently replace multiple missing teeth, restoring your smile to its natural beauty.
As well as repairing your smile aesthetically, multiple tooth implants will also restore a healthy bite and allow you to eat all the foods you enjoy.
In most cases, it is not necessary to replace every single missing tooth with an individual implant. Often, an implant supported bridge is used. Your new implant bridge will be custom-fabricated to blend with your smile.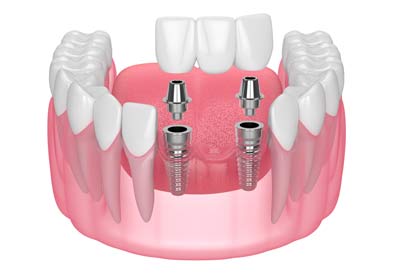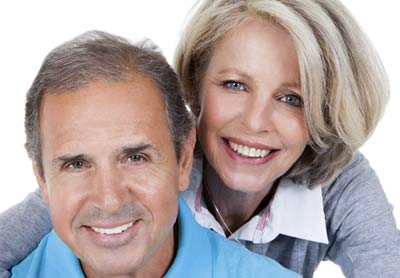 The procedure
We start planning your dental implant procedure using a CT scan. This gives us a clear 3D scan of your jawbone and helps to identify the best positions to place your implants. This is important so that we can get the best outcome both aesthetically and functionally.
In some cases, there is not enough bone to allow an implant to be placed and we may need to add more bone. This can either be done at the time your implant is placed or beforehand. This procedure is called a bone graft and is routine surgery, often carried out at the same time as dental implants.
Implant procedures are usually carried out under local anaesthetic, however, you can choose to have sedation to feel more relaxed. We may also recommend sedation if the procedure is likely to take longer than normal to ensure you're totally comfortable.
Most implant procedures are made up of 2 parts. The first part involves placing the metal posts in the jawbone. These are then allowed to knit with the bone for about 3 months during which time you may be wearing a temporary tooth replacement. We understand the importance of feeling comfortable and confident and we make every effort to ensure that your temporary tooth replacement is as good as it can be.
In some cases, it is possible to attach a temporary bridge to your implants at the same time as it is placed into the jaw bone. This is not suitable for all cases but we can discuss this option if we feel you are a suitable candidate.
To find out more about dental implants for multiple teeth, speak to Cape Road today. Call 01926 491029 or fill out the form below. You can also book a consultation.